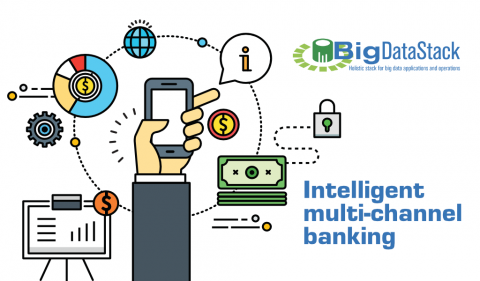 A datacentric paradigm helps create a 360° view of the customer and provide personalized services.
The diffusion of online banking, social media, banking operations in branches and ATMs create a multi-channel scenario. BigDataStack allows this through facilitating intelligent banking powered by data analytics.
This means guar­­­­anteed facilitation of B2C aspects management such as:
Predicting behaviour models to classify different customers
Analysing present and future profitability
Identifying target customers
Fostering  loyalty through tailored offerings and custom solutions especially for unsatisfie­­­­­d customers
Conclude, in real-time, how customers should be addressed at any point of contact (i.e. email, call centre, branch, online banking). ­
The main B2B goal is the optimization of bank processes through data analytics, real-time decision making, and exploitation of data as an enterprise asset.
Regarding processes optimization and decision making, the challenge is to analyse historical data with current feeds (e.g. from social media), to maintain flexibility for future inputs.
An effective and efficient distributed storage will be provided (given the geographic distribution of the banks), ensuring quality of information despite incomplete datasets usually obtained.
Regarding exploitation of data as an enterprise asset, this can be done through a solution that collects and aggregates data ad-hoc (based on different aggregation criteria) to provide customized data assets fit-for-purpose.
Stay informed on our latest news: subscribe to our newsletter now!